If you are looking for a professional IT company for IT solutions and support, then look no further!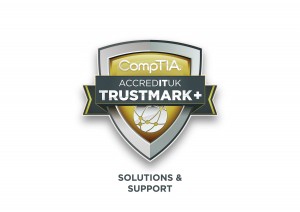 Following our previous CompTIA's IT Business Trustmark accreditation, we have now further developed our business procedures and business acumen to achieve the CompTIA Accredit UK Trustmark+  accreditation.
"We are constantly striving to provide the best possible customer experience and by developing our business processes and procedures through this accreditation enables us to provide even better IT service and support for our customers." Mike Price, Director
This assessment covered every area of our business from our marketing and product information, support handling, quotations, purchasing and project delivery through to management and HR processes that we participate in day-to-day.
"We are proud to be one of only 16 companies in the whole of the UK to have achieved this level, and only the 3rd in Wales in the "Solutions and Support" category. More importantly we are the first in Swansea and South-West Wales to have achieved this, setting us apart from our competitors." Adrian Williams, Director
The CompTIA Accredit UK Trustmark+ is a vendor neutral, business-level credential designed to qualify and differentiate organizations that develop and deliver upper-echelon ICT solutions and services. Applicants undertaking this business credential will enhance their organisational procedures and business acumen, creating greater operational efficiencies and increased revenue opportunities. To receive the Accredit UK Trustmark+, an organization must adhere to a stringent set of industry standards covering organisational management, company direction, business generation, service delivery and operations, and customer relations. The credential framework was approved by experiences ICT industry professionals, including solution providers, vendors and other suppliers.
"This company is quite young but both Adrian and Mike (the 2 Directors) come from a big business background, so they really understand about having good systems and processes in place.  They took up the challenge of meeting this standard, have done really well, and are advocates for this standards approach." Blair Drummond, Trustmark Assessor
We are now looking forward to be formally presented with our certificate at the EMEA Conference in October!
To download the full press release, click here.