Looking for a professional, reliable IT Company to deal with your business IT support requirements?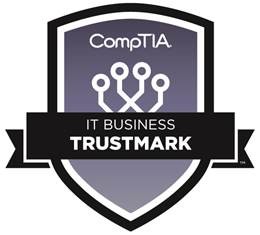 Awarded for our use of industry-accepted best practices of quality IT service delivery, our CompTIA IT Business Trustmark demonstrates we are a company you can trust with your business IT support requirements.
CompTIA's IT Business Trustmark is a vendor-neutral, business-level credential is designed to qualify and differentiate high-caliber solution provider organisations that operate in the United Kingdom. The Trustmark identifies the companies that demonstrate a commitment to providing top-quality IT services by following proven industry best practices. It serves as a reference to the quality of the services these companies provide and the commitment each makes to their end user customers. To receive the IT Business Trustmark, an IT service organisation must agree to a code of conduct, demonstrate knowledge of best practices, and submit an application covering a detailed list of criteria.
"We're really pleased to have received this recognition from CompTIA. With so many IT companies around it's difficult to know who to take advice from. This award shows our continuing commitment to offer our customers a 1st class service. "
Adrian Williams, Managing Director.