Hybrid cloud computing is a mixture of cloud services combined together with traditional local servers. It normally uses a mix of on-site, private cloud and public cloud services together to create one IT infrastructure for an organisation.
Applications are no longer required to be run on local servers. They can now even be part of your Microsoft Office 365 package run on the cloud. No large investments required and no longer a requirement to maintain a local hosted IT infrastructure. But should you be transferring everything to the cloud? There is no need for that. This is where the hybrid cloud comes to good use. Tech-Wales gives you a quick overview how hybrid cloud can work for your organisation. The keywords in this are flexibility and lower costs.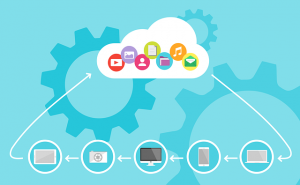 Hybrid cloud computer services – the best IT solution
Some companies and organisations already have an on-site IT infrastructure in place which required a lot of investment and is not written off as yet on the financial records. With the hybrid cloud a business can keep their existing on-site IT structure and start running applications from a private or public cloud. Also in some situations regulations do not allow certain types of information or data to be stored in the cloud. By using hybrid cloud you can store data and information in the appropriate locations and complying to current rules and regulations. These examples show perfectly how the flexible hybrid cloud is the best solution for a lot of organisations.
Hybrid Cloud – Scalability
As stated before a hybrid cloud means that you combine several cloud storage options with applications which are running on your own local system. This way you can manage investments and costs and you can decide what is stored where.
There is no need to transfer all local applications to the cloud in one operation. A business can decide to leave those applications run on the local network and use the cloud to expand the IT system for a seasonal peak or any other expansion. The cloud is very flexible. It is easy to add extra capacity without having to invest in expensive hardware. Also when the extra capacity is no longer required it is very easy to scale down so a business is only for the capacity required.
Hybrid Cloud – In control of the costs
Due to the scalability as explained above the business is always in control of its IT costs. First of all there is a move from investments to operational costs because cloud providers charge a monthly fee and do not require investments. Also there is no need for spare capacity for seasonal peaks. You can simply order more capacity from your cloud provider. When only using a local IT system there will have to be a permanent extra capacity available which requires large investments however it may never be used. With the cloud you only pay for what you use.
When a business decides to transfer from the hybrid cloud to a complete cloud run system even bigger cost savings can be made. There will no longer be any requirement for skilled staff on the premises. The cloud provider will take care of this from now on. Also all updates are done automatically and there is no more need to worry about security.
Hybrid Cloud Computer Services by Tech Wales
At Tech-Wales we are experts in installing, upgrading and maintaining a hybrid cloud computing system. We can provide you with an excellent flexible and cost effective hybrid cloud computing system which is suited for your business or organisation. We also provide excellent Microsoft Azure Cloud consultancy services. We pride ourselves in excellent customer services and a competitive price. Do not hesitate to call us on 01639 326001 to discuss.