For years Microsoft have dominated the workplace desktop with their Windows, Office and Server products. However Apple have managed to start making a significant dent into this monopoly with their ability to create products that look great and are simple to use. If you've made the leap to Apple products, you can still benefit from all the features of Microsoft Office 365 including improved productivity and collaboration.
Don't get left behind…
At a recent event that we attended, a number of small businesses' response to Microsoft Office 365 was 'I don't have Windows, I'm a Mac user' or 'I have an iPhone' and given Microsoft's attitude to competitors in the last 20 years or so, we're not surprised. However with the massive uptake of mobile and tablet products such as the iPad, there has been a huge shift to supporting more platforms and devices from the Redmond software company that could benefit small and medium businesses hugely.
Obviously you will get the best experience of the Microsoft service on Microsoft hardware devices such as Windows Phone andWindows 8 tablets, however the support for "other browsers" such as the 'Safari' browser on Apple Mac has never been so close to the experience on a Windows device.
The noticeable difference between Windows and Apple is with the Microsoft Office suite which can be installed on up to 5 deviceswhen bought as part of your Office 365 subscription (devices in this case meaning Windows PCs or Mac OSx products such as iMac).Microsoft Office 2011 is the latest version of the suite that is available for Mac users at the moment, but by having an Office 365 subscription, as soon as an updated version of Office is released for the Mac, you'll get the update automatically! No more queuing in shops to buy the software!
Major benefits…
A fantastic benefit of Office 365 for Apple users is being able to view and edit Office documents on your iPad! This is done through yourinternet browser, using the functionality of Office 'web apps'. This means that applications like Word, Excel, PowerPoint and OneNotethat just aren't accessible to iPad users, are now available albeit in a slightly limited web-browser delivered environment.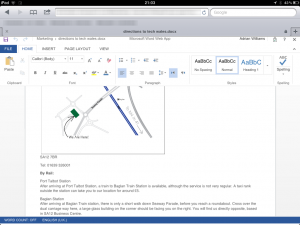 The reality is that Office 365 can save small and medium businesses across wales money, as well as make them more productive,regardless of them being Apple users.
A Microsoft Office 365 subscription provides you with:
Business-class Email: 25GB mailboxes, shared calendars, spam and malware protection and access from almost any device.
HD Videoconferencing: Work with colleagues, customers and partners from anywhere through multi-party HD video and content sharing. Get work done as if you were working in the same room.
Financially-backed SLA: Get peace of mind knowing your services are available with a financially-backed 99.9% uptime service level agreement.
Simplified IT Management: Reduce your IT headaches by reducing your IT infrastructure. Your content lives safely and securely in the cloud, with rich, easy management options that keep you in control.
Technical Support: Telephone support for setup and deployment issues, as well as online answers, how-to resources, and connections with other Office 365 customers for more help.
With anywhere access to these features such as email, documents and calendars and more across all your Apple devices; iPad, iPhoneand Mac, the same benefits that apply to Windows users, apply to you:
Improved productivity
Lower hardware costs
Reduced travel expenses
IT control and management
Security and reliability
In fact, we have a client who is the epitome of Apple, having a Mac, iPhone and iPad but still finds that Office 365 has massively improved her business productivity by allowing her to organise her business documents online and much more!