Fed up of losing internet connection on your commute? Well, this could be a thing of the past (at least up to the 24th April) if you're planning on travelling on the London Overground network or at larger stations on the First Great Western and Greater Anglia networks.Microsoft Office 365 online and TheCloud internet have teamed up to provide a great service to commuters.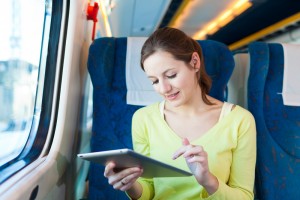 With the FREE unlimited WiFi available on station platforms, concourses and in waiting rooms on these lines, it means businesscommuters can make the most of their Office 365's Anywhere Working by continuing work on important documents, accessing emailand contacting clients/colleagues while on their commute!
Even for personal travel, this would mean the kids make use of their smartphones, tablets and e-readers they received for Christmas, and are entertained with video streaming, game playing and access to their social networks.
Unfortunately it's not something we can make use of locally in Wales, but if you have business travel this month, to London especially, it will now be much more productive.
For more information on how Microsoft Office 365 can make you a more productive worker, or the Office 365 IT services we offer, please don't hesitate to get in touch!