Organisations are working more flexible these days. This means that employees are working time and location independent. This has major advantages. With flexible working your business can organise time and locations which is most convenient for you and your members of staff. Less issues taking the children to school or time lost with public transport delays or traffic jams. This does mean however that your organisation needs to adapt a different way of working. It is essential to acquire the right technology to organise meetings with people in different locations.
The right business telecommunication equipment needs to be available to do conference calls and meetings. If you don't buy the right equipment there will be a breakdown in communication and conference calls will be more of a nuisance than actually providing benefits of flexible working.
Tech-Wales gives you an overview what to look for to make sure you get the right equipment and devices for your flexible organisation.
Business VoIP phone devices
It is important to choose a business phone gives you the features ideal for the flexible workplace. So called VoIP business phones use the internet to make phone calls and give you great advantages with for example conference calls.
You need to choose a phone device which gives you clear voice communication to ensure a good communication with your co-worker or client. Also the option of conference call with audio and video is essential.
Yealink have got a variety of VoIP devices which deliver excellent quality and gives you a crisp voice communication. The Yealink T58A for Microsoft Teams is an android based phone and has a 7 inch adjustable touch screen. This device also comes with Yealink Optima HD voice, SILK audio codec and noise proof technology makes sure the user can focus on the call.
The Yealink T58A for Skype for business is an easy to use smart media phone. This device comes with enriched HD audio calling. This device has a seven inch adjustable multi point  touch screen that gives you access to Skype for Business and Microsoft Teams.
Article continues under image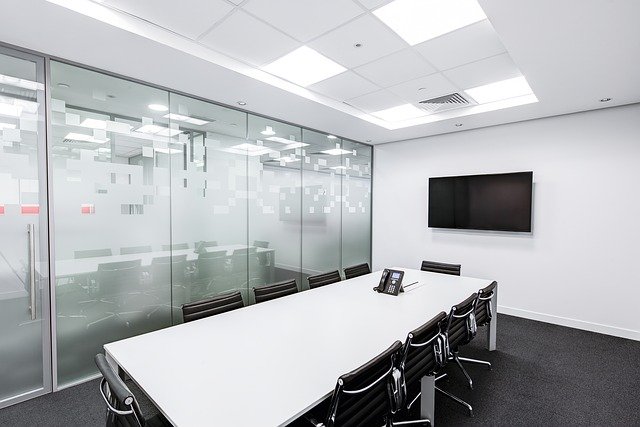 Phone headsets for business
In open-plan office spaces and call centers it can be difficult to block out all of the noise in order to focus on the your call and keep productivity flowing. A phone headset is required which ensures that your not distracted from your call and that you can clearly communicate with colleagues or clients.
Examples of excellent headsets is the Jabra Evolve 30 series. These headsets are available with a single ear cushion but also with two ear cushions. They are comfortable to wear and offer an excellent quality of sound for clear calls and communication. The microphone eliminates any background noise to make sure whoever your communicating with can clearly understand you.
Meeting room video conferencing devices for business
To invite people from other locations to your meeting room will require a video conferencing system. Like with the phone devices and headsets quality is important to ensure clear communication between all parties.
Yealink offers a range of video conferencing systems. You can choose a device for a small, medium or large room. Choosing the right device ensures that all people can be heard to ensure an efficient and clear meeting.
The Yealink MVC 300 for small and focus rooms comes with a touch console, content sharing unit, audio / video peripherals and a mini PC. The video system is fully integrated with Microsoft Teams Rooms. Together they form the perfect almost wireless video solution for small spaces. The mini PC forms the basis of the system to which you can connect all necessary equipment.
The Yealink MVC 800 is ideal for medium and large sized rooms. The functionality is the same as the MVC 800 but more suited for larger rooms. With the MVC 800 multiple microphones can be added depending on the size of the room. The MVC 800 supports Microsoft Teams Rooms, Office 365, Skype for Business and Microsoft Teams.
Tech-Wales telecom solutions
At Tech-Wales we are experts in setting up the perfect telecom solutions for your business. We combine expertise with great customer care to design and install a telecom system suited and tailor made for your flexible business. We will integrate your telecom system with your Office 365 package giving you an all in one business communication system. Contact us today to discuss your business telecom system.