Back in 2010 I was doing a lot of work away around the Reading and London areas. Apple had recently released the iPad and I made the fatal mistake of "popping" into the Apple store in Oxford Street. I was instantly hooked by the iPad it's lovely brushed aluminium design and responsive user interface just worked. Of course the Apple marketing machine had driven the massing hoardes into a frenzy and there were none available to buy. However, I managed to find a PC World in Reading that had one 3G/Wifi model left, so I reserved it online and drove straight there and picked it up.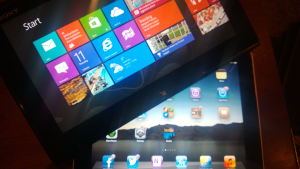 Since then my iPad has never been far from my side at home – it's great for sitting on the settee and browsing the web, controlling my sky box and updating my Facebook status. Although, it never really made it into my work life. There were a couple of reasons for this:
I had to email files to myself to work on as it wouldn't see our file-server
As good as the word processor, spreadsheet and presentation apps were they weren't what I was used to using
Roll forward three years and there's been a number of iterations of the iPad out now (thinner, faster, higher resolution screens). My iPad 1 has battled on regardless, right up to the point that iOS 6 came out and Apple decided that my hardware had become obsolete. It still works but I'm now not able to upgrade it to the latest version. Thankyou Apple!
Then Windows 8 arrived…
Then in late 2012 Windows 8 was released along with a new hardware device from Microsoft called Surface and I was intrigued. The Microsoft Surface devices come in two flavours Surface RT (which is really aimed at home users) and Surface Pro which is aimed atbusiness users.
I spoke with a few colleagues who had brought Surface RT devices early on and although they liked the user interface and it made Windows 8 feel a bit more user friendly they didn't feel that they could use it as their main device mainly down to the fact they couldn't run their old Windows applications on it. So when we were looking to upgrade some of our kit in the office we decided that we would purchase a new "tabtop" running Windows 8 Pro and the device we chose was the sleek, fabulous Sony Vaio Duo.
The device is a cross between a Tablet and a Laptop and although it weighs a little bit more than an iPad it packs a mighty i7 processor, 8Gb RAM and a 250Gb solid state hard drive – it's a proper PC. The battery life is fantastic and not only does it have atracker ball and touch-screen but you can also use a stylus to write just like paper directly onto the screen.
The real "Killer Features" though only really come to life when you combine it with either a cloud service like Microsoft SkyDrive orOffice 365 subscription and Office 2013. Now when I'm out and about I can use my 'tabtop' to:
show PowerPoint presentations,
update word documents and spreadsheets
read/respond to my emails using a proper keyboard.
use OneNote to make notes
when I get back to the Office my desktop PC has already sync'd wirelessly using the cloud. This makes me so much more productivewhen I'm out and about and I'm free to install the software design tools that I need to show customers some of our "development" builds.
I truly am converted to Windows 8 on the Sony Duo – in the next year or so then hopefully the apps that are currently only available on iPad will also migrate over to Windows and there's already been a massive growth in the numbers of apps that are published. So although my iPad still sits next to my settee it's my Sony Duo I'm using to write this blog.